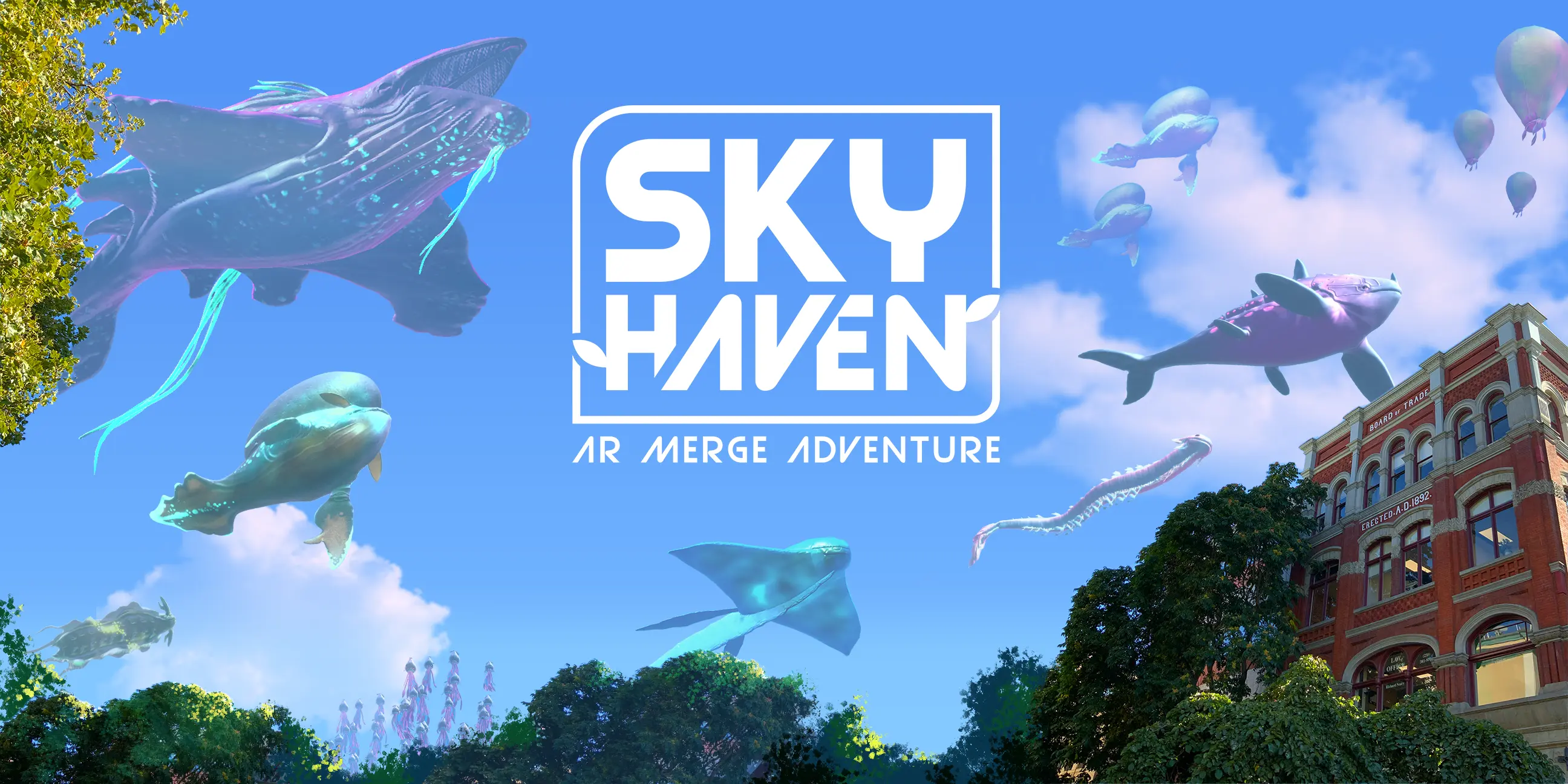 All of the following images, logos, and videos are available for download in our Google Drive™

SKY HAVEN PRESSKIT
Website:

Inquiries:

Socials:

Platforms:

Android, IOS

IOS App Store:

Google Play Store:
Only you can see them, only you can save them.
Sky Haven: AR Merge Adventure is a new mobile adventure from the creators of Floor Kids and Wollstonecraft Detective Agency, Canadian game developer Hololabs.

Sky Haven is an alternate reality adventure game about the discovery of hidden sky creatures, featuring location-based gameplay, merge puzzles, and AR. Using a mobile phone (Android, iOS), players become new recruits of an Agency whose mission is to research and protect these newly discovered creatures living in our skies.

Complete merge puzzles to use Agency technology to cultivate: food, medicine, scientific gear, and the enigmatic and adorable Welly creatures themselves. Upgrade your production gear and advance your AeroGarden to feed, heal, upgrade, and study the science of the Sky Creatures. The more production you make the more Sky Creatures you can find and take care of.

Sky Creatures are suffering due to modern climate change. The HAVEN agency, who alone has the technology to see and track these creatures, has long been the protector and guardian of the Sky Creature realm. The secret HAVEN Agency researchers have found out how to help Sky Creatures and our planet to survive. And you can really help too! Take part in reforestation in real life planting trees with Sky Haven and an environmental activists platform Ecologi. These trees give life to the world's visible wildlife and invisible Sky Creatures. As planting trees is one of the most effective ways to combat climate change, our goal is to plant 1 million trees, and we believe together we can achieve this ambitious goal!
MYSTERY & ADVENTURE - Embark on a story of mystery, discovery, and secrecy as you learn about the Agency and the power struggles that accompany the scientific discovery of the century. Perform missions to reveal new creatures, explore their world, solve agency problems, and uncover conspiracies.

MERGE PUZZLES - Match and combine items to help complete your missions. Collect seeds and merge them to create plants, build new agency gear by merging different components, and upgrade your tools to help advance your adventure.

CASUAL - Simple puzzle gameplay lets you play whenever you have a moment, whether riding the bus to work or from school, waiting in line at the store, or sitting on the couch at home.

GAMEPLAY - The agency needs you to research and manage the creatures in your city. With the help of your AR-enabled device and Penny, the agency-issued drone, you can track them all on the map. Be attentive, maybe you can find the rarest Sky Creatures in your neighborhood.

REALITY - Venture to your favorite park or look out your window at any time to see these majestic creatures flying above. With new AR technology, see if you can spot these creatures weaving in and out of clouds or hiding behind nearby buildings.
Initially Sky Haven was conceptualized as a farming simulation game whose target audience was educators and children. The farming simulation prototype was developed with funding received through the CMF Prototyping Program which completed in January 2021. This prototype featured real time weather conditions, location-based crop harvesting and augmented reality sky creatures featuring cutting edge sky occlusion technology developed by Hololabs. The intention was to create a product like Pokémon GO that had real world educational value. To teach topics of ecology, climate change and global current events.

Production funding was applied for and granted by the CMF and the project commenced in September 2021 with significant changes to the underlying gameplay. During the prototyping phase the project pivoted to becoming a casual game intended for a broader audience. Our vision included a new gameplay compulsion inspired by an increasingly popular merge mechanic. Inspiration was drawn from games such as Merge Mansion and Love and Pies. Merging this new mechanic with our location-based gameplay commenced in December 2021.

A new story was drafted which created a rich context to our merge gameplay and established the HAVEN agency. Narrative is a primary feature of the game and so we developed a chat messenger interface to deliver dialog that tells the story. The characters in the chat that you meet help you research and understand the creatures in the skies above viewable in augmented reality.
Players start out playing a game called Sky Haven and are introduced to the world of Sky Creatures by a character called Dr. Rohan. Dr. Rohan explains that these Sky Creatures live in another plane of reality unseen by anyone in our plane.

They are under the care of an Agency called HAVEN who has developed a technology that is able to see and monitor them. These creatures are very much linked to our plane and our environment. They are the unseen caretakers of our plane, and HAVEN the protectors of them. You are a new recruit to HAVEN and, with the help of a sentient drone named Penny, must learn how to be an agent and care for these creatures yourself. HAVEN's work is very important. What you learn and do has a direct effect on the environment and judging from the state of our environment HAVEN needs all the help they can get.

You integrate yourself into HAVEN and meet and work with many different agents. Relationships are forged and exposed, romance is kindled and challenged, and alliances and suspicions soon embed deep within your team.

Ultimately the true nature of the source that recruited you is exposed and a sinister plot resurfaces from the past challenging you, April, Dr.Rohan, Penny and your team to save the day, save the creatures, and save the planet.
Sky Haven features an original soundtrack and sound design created by Stephanie Khoury. The music was composed with inspiration from the Solarpunk genre, fusing together technology and futuristic elements in support of the natural world. The music uses a combination of modern and vintage synthesizers and effects in collaboration with natural and acoustic sounds. Warm ambiences and modular synthesis combine with organic textures from camera rolls, beetles, whistles, tubes, mallets and djembes to create a vast acoustic palette meant to immerse the player in the game.
NYX Game Awards 2022 | Mobile Game - VR/AR | Gold winner
Canadian Game Devs 2022 Community Awards | Most Anticipated Canadian Game | Nominee
(Click to open high-resolution versions, then right click to save)
(Click to open high-resolution versions, then right click to save)
(Click to open high-resolution versions, then right click to save)
(Click to open high-resolution versions, then right click to save)
Founded in 2011 by researchers in intelligent systems and veterans from AAA gaming, Hololabs fuses creative interaction design with advanced engineering to create innovative and engaging mixed reality experiences. With a portfolio ranging from theme park rides to mobile games and virtual reality, the company thrives on technically challenging and ambitious experiences, and has won several awards for their success.